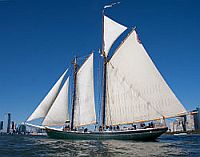 Wonderful news!  In February 2012, the 1893 built, Freedonia class fishing schooner, Lettie G. Howard was drydocked to repair rot in her keelson.  The rot was found to be far more extensive than expected and since then the South Street Seaport Museum has been raising funds to repair the historic schooner.  Now, despite a world of other troubles, including being struck a devastating blow by Superstorm Sandy, the South Street Seaport Museum has succeeded in raising the $250,000 needed to restore the Lettie G Howard.   The highpoint of the fundraising was the recent gala fundraising performance by singer-songwriter Rosanne Cash.
"We are so grateful to Rosanne Cash for all of her efforts to help us save Lettie G. Howard," said Susan Henshaw Jones, Ronay Menschel Director of the Museum of the City of New York and President of the South Street Seaport Museum. "Thanks to $80,000 in proceeds from an unforgettable night of great music with Rosanne Cash, income from a recent Warner Brothers movie shoot for the film Winter's Tale aboard our Wavertree, and the generosity of many donors, including a challenge grant from Anne Beaumont, we hope to soon have Lettie under sail once again."
In recent years, Lettie G. Howard served as a sailing school vessel for the New York Harbor School, the New York City public high school on Governors Island that trains students for maritime careers.  But the schooner developed rot in her keelson (the interior spine that holds her together) and the South Street Seaport Museum needs to take her apart in order to make repairs, Henshaw Jones said.
Repairs – estimated at $250,000 – will begin following interviews with shipyards. The goal is to make Lettie G. Howard seaworthy once again so that she can continue to train future generations of students.