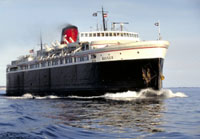 Toward the end of last year, we posted about the the battle over the continued operation of the SS Badger, the last coal-fired passenger vessel operating on the Great Lakes.  To her admirers she is a national treasure.  To her detractors she is a an environmental menace, dumping 4 tons of coal ash into Lake Michigan every day.   The ferry's EPA waiver which allowed her to dump the ash expired in December.  Now an EPA Consent Decree has been issued allowing the ship to continue operating and dumping ash, although in lesser quantities, for the next two years.
Consent decree allows SS Badger to sail 2 more years
"This consent decree offers the fastest and most certain path available to EPA to stop the discharge of coal ash from the Badger into Lake Michigan," said Susan Hedman, administrator of the EPA's regional office in Chicago in a statement. 
"The enforcement agreement reduces the discharge of coal ash more quickly and with greater oversight than would occur during the appeal of a decision to issue or deny a permit – a process that often takes several years."
Illinois Senator Dick Durban was not pleased by the agreement, commenting, "The SS Badger, the filthiest ship on the Great Lakes, has been given two more years to dump hundreds of tons of dangerous coal ash into Lake Michigan."