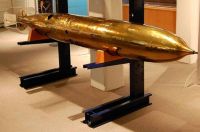 The Howell Automobile Torpedo of 1889 was the first self-propelled torpedo in United States Navy service. Only fifty were built and until recently, only one was known to have survived. Then in late April, Navy dolphins located a lost Howell torpedo off the coast of Coronado, California. The dolphins were being trained to retrieve objects underwater and to tag mines. Their Navy trainers were perplexed when two dolphins identified an object in an area where they had not placed any targets. As reported by the LA Times:
A dolphin is then ordered to dive and search. If it finds something, it is trained to surface and touch the front of the boat with its snout. If it has found nothing, it touches the back of the boat.
When a dolphin named Ten surfaced from a shallow-water dive last month and touched the front of the boat, Navy specialists were nonplused. "It went positive in a place we didn't expect," said Mike Rothe, who heads the marine mammal program.
A week later, a dolphin named Spetz did the same thing in the same area. This time, the dolphin was ordered to take a marker to the object.
Navy divers and then explosive-ordnance technicians examined the object, which was in two pieces, and determined that the years had rendered it inert. On one piece was the stamp "USN No. 24."
The torpedo pieces were lifted to the surface and taken to a Navy base for cleaning and to await shipment to the Naval History and Heritage Command, located at the Washington Navy Yard.
The Howell torpedo was made of brass, 11 feet long, driven by a 132-pound flywheel spun to 10,000 rpm before launch. It had a range of 400 yards and a speed of 25 knots.
Thanks to Alaric Bond, Phil Leon, Louis Cohen and Irwin Bryan for contributing to this post.