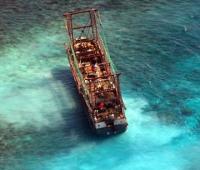 Despite being smaller than the USS Guardian and spending less time aground on the Tubbataha reef, the Chinese fishing vessel F/V Min Long Yu, which ran aground on the protected reef on April 8, apparently did more damage than the US Navy minesweeper.  In addition to damaging the reef, the Chinese vessel was also found to be loaded with an illegal cargo of 22,000 pounds of of pangolin meat, a protected species of scaly anteater. The 12 Chinese aboard the vessel had been charged for poaching and possession of protected species, as well as for attempting to bribe park rangers. The Philippines' Tubbataha National Marine Park is a UNESCO-designated World Heritage Site in the centre of the Sulu Sea.
Chinese vessel did more damage to Tubbataha than USS Guardian –TMO
According to the team, the Chinese vessel destroyed 3,902 square meters of corals —including some massive corals 500 years old. This is 66 percent larger than the 2,345.67 square meters damaged by the USS Guardian when it ran aground last Jan. 17.
"The damage the Chinese vessel caused to the reef is heart-breaking. Some of the massive corals that were pulverized are estimated to be about 500 years old," Tubbataha Protected Area superintendent Angelique Songco said.
The USS Guardian measured 224 feet by 39 feet while the Chinese fishing vessel measured 48 meters long and eight meters wide.