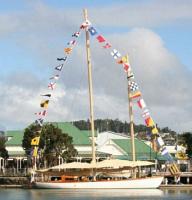 The schooner Nina, a 70′ Burgess designed yacht built in 1928, was last heard from on June 4, when it was battling a storm off New Zealand. The yacht had sailed from Opua in the Bay of Islands bound for Newcastle, Australia on May 29. On board were the Dyche family, Captain David Dyche, 58, his wife Rosemary, 60, and their son, also named David, 17. Four other crew sailed with the family - Evi Nemeth, 73, a a retired Colorado University professor and computer engineer; as well as two other Americans, a man aged 28, a woman aged 18; and a British man aged 35.
On June 14, Maritime New Zealand's Rescue Coordination Centre started a communications search in which they attempted to contact the boat over various radio frequencies and also contacted other vessels in the area to see if they'd seen the Nina.  This week they began two extensive searches by an RNZAF Orion which failed to spot the schooner or any signs of crew. On Thursday, RCCNZ began a shoreline search above Northland, to search for any wreckage or a life raft.  Thus far nothing has been found.
No SOS messages were received from the Nina nor was the EPIRB activated.  New Zealand Search and Rescue officer Neville Blakemore is reported to have said that the EPIRB aboard the schooner was not a hydro-statically activated design and would not automatically send a signal if the yacht sank.  "If the vessel got knocked over by a rogue wave it would have happened very, very quickly and they may not have had time to, to launch any life-saving equipment," Blakemore added.
This leg of the voyage was to have been the last family sailing trip before David Dyche IV headed off to college in the US.
Visit NBCNews.com for breaking news, world news, and news about the economy