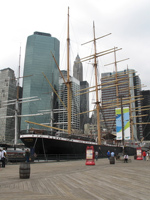 At the end of last October, the South Street Museum's Waterfront Director, Captain Jonathan Boulware, and his crew of staff and volunteers scrambled to secure the museum's historic ships, including two aged windjammers, moored on the East River, before they were struck by Superstorm's Sandy's storm surge.   They successfully kept the ships afloat and undamaged. Sadly, the same could not be said of the seaport itself or the shore-based Seaport Museum which suffered an estimated $22 million in damage.
Now, the Museum of the City of New York has pulled out of the management of the museum, and Captain Boulware has been appointed interim president. Together with a transitional board of three trustees, he is tasked with overseeing the historic ships as well as the museum's operations and collections.  The transitional board made up of Christie Huus, David Sheehan and Tracey Knuckles is seeking new management and funding for the troubled museum.  The challenges of keeping the struggling museum afloat may dwarf those of saving the fleet from the ravages of Sandy.
From a museum press release: "South Street Seaport Museum plays a critical role in telling the story of maritime New York—the most important maritime city in the western Hemisphere.  I remain committed to the Museum's presence here in lower Manhattan, the birthplace of Wall Street and maritime corridor to the nation. Our schooner Pioneer will continue sailing, the Bowne print-shops will be open, and education programs will continue," said Interim President Jonathan Boulware.
Although the galleries, which sustained significant damage in Superstorm Sandy, remain closed, other key components of the Museum are open for business. The 1885 schooner Pioneer will continue to sail with both education programs and public excursions through October. Bowne & Co. Stationers and Bowne Printers on Water Street are also alive and well, using the "working collection" of moveable type to create unique printed materials. To visit the printers and shipcarvers on Water Street or to sail in Pioneer, visit southstreetseaportmuseum.org.