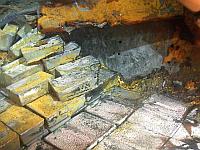 Almost exactly a year ago, we posted that Odyssey Marine Exploration had recovered approximately 48 tons of silver  from the wreck of the SS Gairsoppa, a 412-foot British cargo ship which was torpedoed in February of 1941 by a German U-boat.   The wreck lies almost three miles below the surface and is one of the most valuable and  deepest ship wrecks ever salvaged.  Odyssey has recently announced that they have now recovered an additional 61 tons of silver bullion from the shipwreck.
Odyssey Recovers 1.8 Million Ounces of Silver From Shipwreck Three Miles Deep
Including the silver recovered in 2012, Odyssey has now recovered 2,792 silver ingots from SS Gairsoppa or more than 99% of the insured silver reported to be aboard the Gairsoppa when she sank. Under the terms of Odyssey's contract with the UK Department for Transport, which follows standard commercial practices, Odyssey will retain 80% of the net salved value of the cargo. The contract was awarded to Odyssey following a competitive tender process.
Sources, including Lloyd's record of War Losses, indicate additional uninsured government-owned silver may have been aboard the SS Gairsoppa when she sank, but to date no uninsured silver has been located.
"This was an extremely complex recovery which was complicated by the sheer size and structure of the SS Gairsoppa as well as its depth nearly three miles below the surface of the North Atlantic," commented Greg Stemm, Odyssey's chief executive officer. "To add to the complications, the remaining insured silver was stored in a small compartment that was very difficult to access.
"The recovery of more than 99% of the insured silver cargo under these adverse conditions is a testament to the skill and ingenuity of the offshore team led by Senior Project Managers, Andrew Craig and Ernie Tapanes. The expertise demonstrated in implementing this challenging project continues to be applied as we undertake other modern shipwreck projects, deep-ocean mineral exploration and our best-in-class deep-ocean archaeological work on historic shipwrecks."
Shipwreck of SS Gairsoppa discovered with £150m silver haul
Thanks to Phil Leon for contributing to the post.