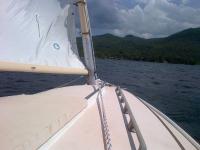 I will admit that I am not a lover of wooden vessels. An admirer from afar, perhaps.  The truth is that I am afraid of rot.  I don't understand it, and, as is often the case, I fear what I don't understand. And, I doubt that I would like rot, even if I did understand it.  Frankly, I like fiberglass. There I said it.  And I am not ashamed.
Two months ago, I bought a Herreshoff America 18 catboat, an example of what I consider to be "classic plastic," a timeless design, built to last.  Built in 1973, at forty years old, her hull is still solid and sound.  She is on at least her second sail (she only has one, a 250 square foot gaff rigged main.)  Her aluminum mast is original as are her boom and gaff.  I am only her third owner, or so the last owner told me.  The first owner is said to have owned her for close to 39 years. In this case, the sailor wore out before the boat.  He is said to have sold the catboat when he was in his 80s and couldn't sail anymore. The next owner found that he was too busy to sail, kept her for a season, and then passed the boat along to me (in exchange for a cashier's check.)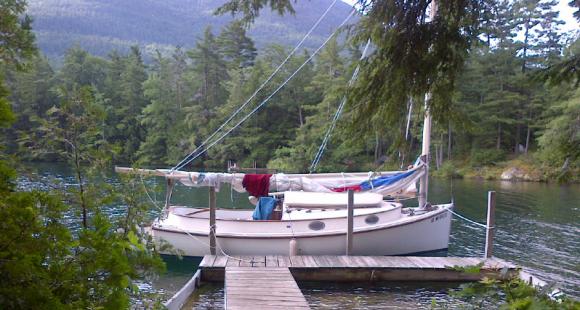 Once I owned the boat, I found that I was too busy to get her in the water for two months. Over the Fourth of July weekend, we finally launched her and had a wonderful sail on Lake George. For a tubby 18 footer, with an 8′ beam and weighing in at 2,500 pounds, she sails amazingly well. We screamed along at close to 6 knots, which for a boat with a 17.75′ waterline is pretty impressive. Having a sail area to displacement ratio of almost 23 definitely helps.
I recall distinctly when I saw my first Herrsehoff America 18. It was in the late 70s, so the boat must have been fairly new.  The catboat was sailing down the channel into Stamford harbor. She was a small boat but with a beam almost half her length she had a certain presence. She was on a broad reach and her gaff-rigged mainsail looked huge and stately. She was lovely.  Decades later, my opinion hasn't changed.