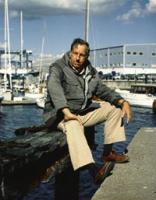 In 1955, Ted Hood founded Hood Sailmakers at the back of Maddie's Bar in Marblehead.   Hood Sailmakers would grow to be a premier sail maker in the 1960s and 1970s.   Hood was also a boatbuilder, designer and sailor. In 1974 he built the 12-meter yacht Courageous and sailed it to victory in the America's Cup.  Ted Hood was inducted into the America's Cup Hall of Fame and the National Sailing Hall of Fame. Ted Hood died last Friday at the age of 86.
America's Cup: Ted Hood dies at 86
Born in Beverly, MA in 1927 to Ralph Stedman Hood and Helen Emmart Hood, Ted grew up in the nearby towns of Danvers and Marblehead. He attended Marblehead High School and Wentworth Institute. He served in the Navy during World War II…. 
In 1955, he founded Hood Sailmakers in the back of Maddie's Bar in Marblehead, but later moved the operation to the nearby Little Harbor section of that town. With his father's help, Ted was the first sail maker to weave his own sailcloth, revolutionizing the process to enhance the strength and durability of his sails. By the 1970s, Hood Sailmakers had grown into a worldwide network of service and production lofts, with his sails ubiquitous on winning yachts including all the Americas Cup winners from 1958 to 1977.
By the early 1980's Ted had turned his attention away from sail making and to boat building and design. He created a line of sailboats under the 'Little Harbor' name, and constructed many yachts under that name from 38' to 78', personally involved with design and construction details. In addition, various builders worldwide built over 1,500 yachts of his design, including the 133' Anakena.