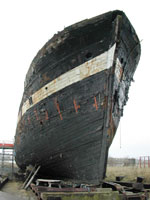 The two headlines in the BBC are from the same day and posted only an hour apart. The first reads "World's oldest clipper ship transported to Australia." The second – "City of Adelaide clipper ship export ban sought."   Both articles are about the clipper ship, City of Adelaide, the world's oldest surviving composite clipper ship and the only surviving sailing ship built to give regular passenger and cargo service between Europe and Australia.  She is five years older than the composite clipper, Cutty Sark.   
After numerous delays, the Australian consortium intends to move the old ship by barge to Adelaide, Australia in just less than two months. Meanwhile, the group which wants to keep the ship in Scotland, has asked the Reviewing Committee on the Export of Works of Art and Objects of Cultural Interest, to intervene to stop the move.
The old ship has been rotting at the Scottish Maritime Museum in Irvine, Scotland for years. The museum, which lacked the funds to care for the ship, had threatened by scrap her.  Two groups came forward in an attempt to save the ship. The Australian City of Adelaide Preservation Trust wanted to move the ship back to its namesake city, while the Sunderland City of Adelaide Recovery Fund (SCARF) wanted to move the ship to Sunderland, where she was built in 1864. In August 2010, Scottish Culture Minister Fiona Hyslop awarded the Australians the right to move the ship back Adelaide.  That might have ended the argument, but so far, it has not.
The problem encountered by both groups is that while each is sincere in wishing to preserve the historic ship, neither has in hand the many millions required to execute their plans.  Support by the governmental agencies in Australia has been notably weak.   The government of Scotland has pledged 750,000 pounds to the project.
Plans to move the old ship to Australia appear more solid than they have in the past.  We have previously posted about announcements that the ship would be moved to Australia by November 2011, then by March and then October, 2012.  The ship's rudder was transported to Adelaide in January.   Barring court action to block the move, the City of Adelaide may finally return to its namesake port later this year.