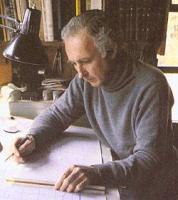 Dick Newick, the brilliant multihull designer, has died at 87.  His designs, particularly his trimarans,  revolutionized the world of multihull sailing.  His designs are remarkably graceful, simple, light and astonishingly fast.  In a very real sense, the history of multihull design can be divided into Before-Newick and After-Newick. Before-Newick, trimarans were ugly and boxy. Newick's designs, when they first arrived in the 70s and 80s, seemed almost other-worldly, with sweeping lines and amas that rested lightly on the water.
The first Newick design to catch the world's attention was not a trimaran but a proa.  Newick designed Cheers, for  Tom Follett who placed third in the Observers Single-handed Trans-Atlantic Race (OSTAR) of 1968, the first multihull to place in the race. Soon Newick designed trimarans were winning ocean races around the world.   In 1980 Phil Weld sailed, Moxie, a Newick designed trimaran to win OSTAR, the first American ever to do so. Weld set a new race record of 17 days 23 hours and 12 minutes.
Over his long career, Newick designed more that 130 sailboats, ranging from the 60′ Rogue Wave to the 23′ Tremilino.  Dick was quoted as saying, "People sail for fun and no one has yet convinced me that it's more fun to go slow than it is to go fast."
Somewhere in a closet or dresser drawer, I have a bright orange Moxie t-shirt which I bought from Phil Weld at a boat show the year after he won the OSTAR.  At the show, Moxie was on display alongside the dock. She was sleek and beautiful, a work of art, as well as a very fast sailboat.  Sadly, Weld died of a heart attack, only three years later, in 1984 and now Dick Newick, the creative master who designed the boat, has also passed away.   Last I read, Moxie is still sailing in the South of France.