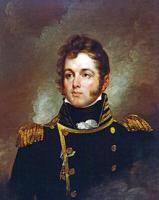 Oliver Hazard Perry was born near Newport, Rhode Island on August 23,1785. He died of yellow fever on his 34th birthday in 1819.  Perry went sea as a midshipman at the age of 13.  He was given his first command, of the schooner USS Nautilus, at the age of 20 in the Battle of Derma in the First Barbary War.
Eight years later, in 1813, Perry would command nine US Navy vessels at Put-In-Bay, Ohio in Lake Erie, where he decisively defeated a British squadron.   The Battle of Lake Erie, as it would become known, turned the tide of the War of 1812 in he west, giving control of Lake Erie to the American and denying the British their supply lines. It was one of the two strategically important American naval victories in the war.  Ironically, both victories were in fresh water hundreds of miles from the occasion.
Oliver Hazard Perry was awarded the Congressional Gold Medal and promoted t the rank of captain for his role in the Lake Erie campaign and earned the nickname in the press of the day, the "Hero of Lake Erie."  He later commanded the 44 gun Java in the Mediterranean during the Second Barbary War.  When returning from diplomatic mission to negotiate an-anti-piracy treaty with Simon Bolivar, Perry contracted yellow fever and died on his 34th birthday.
The 196' three-masted, square-rigged tall ship SSV Oliver Hazard Perry is nearing completion in Narraganset Bay Shipyard. She will be the largest civilian training vessel in North America and the first ocean-going, full-rigged ship built in the United States in more than 100 years. See our recent post – Visualizing the Oliver Hazard Perry and the OHP Photo Blog.