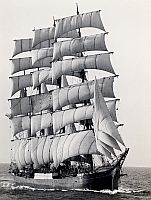 When did the great age of sail finally end?  (Some would argue that it is not yet over.)  If one was to pick a single date when it finally came to a close,  I would choose today, fifty six years ago, September 21, 1957, when the last cargo carrying windjammer, Pamir, sank off the Azores in Hurricane Carrie. Her cargo of grain, which had not been properly stowed, shifted in the storm and the ship capsized.  Of her crew of 86, including 52 cadets, only 6 survived.
The windjammers hung on so long because a few owners continued to find ways to make them pay. In the 1920s and 30s, several sailing ship owners including Carl Laeisz and Gustav Erickson began to carry trainees aboard their ships. These trainees were apprentices from steamship lines and as well as young men seeking adventure. These young men paid the shipowners for their training. With no or low fuel costs and trainees covering much or all of crew costs, the windjammers' could still often make money even with very low paying cargo.
The Pamir had been built in 1905 for the the German shipping company F. Laeisz of Hamburg.  She was a steel, four masted barque, setting royals over double t'gallants.  Her gross tonnage was 3,020 and her deadweight tonnage was 4,500.  She had an overall length of 114.5 m (375 ft), a beam of about 14 m (46 ft) and a draft of 8 m (26.2 ft).  She carried a total of 3,800 m² (40,900 ft²) of sail and could reach a top speed of 16 knots (30 km/h).  She was the last commercial sailing ship to round Cape Horn, in 1949.
She was one of ten near sister ships, built for the the South American nitrate trade.  As all Laeisz ships since 1885 had names starting with "P" they were known as the "Flying P Liners."  Laeisz sold the Pamir in 1931 to the Finnish shipping company of Gustaf Erikson, which used her in the Australian wheat trade. During and after World War II she was briefly sailed under New Zealand flag,  before being returned to Ericson Line in 1948.  She was due to be scrapped in 1951 when a German shipowner, Heinz Schliewen, purchased the Pamir and her near sister, Passat, to be converted to cargo-carrying school ships.  The ships were fitted with auxiliary engines, refrigeration, radio communications and new accommodation spaces.
By 1957, the Pamir was not able to turn a profit. Repairs and maintenance were deferred.  Experienced ships officers were difficult to find.  When the ship sailed from Buenos Aires for Hamburg on August 10, 1957, her cargo of barley was improperly stowed and, based on the observed rolling period,  the ship had inadequate stability.  When the ship was struck by Hurricane Carrie off the Azores, the grain shifted and the ship capsized. Only 6 of the 86 aboard survived.
The Passat, also sailing as cargo carrying school ship, was laid up after the sinking.  The age of cargo carrying sailing ships, had come to an end.
Remarkably, the Passat and three other Flying P liners have survived.  The Passat is a youth hostel and museum ship in the German port of Travemünde.  The Peking is barely holding on as a museum ship at New York's South Street Seaport. The Pommern is a museum ship in Mariehamn, Finland.  Most remarkable of all, the the Padua is still sailing as the school ship, Kruzenshtern, under Russian flag.
Writers aboard the Blog Hop – do please pay them all a visit!