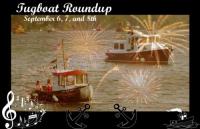 These are good times for tug boat fanatics in the North East.  On Labor Day, there was the running of the 21st Annual Great North River Tug Boat Race on the Hudson River in New York City, sponsored by the Working Harbor Committee and beginning tomorrow and continuing through the weekend is the 2013 Waterford Tugboat Roundup, at One Tugboat Alley in Waterford, New York, near Albany.
If you missed the Labor Day race, there are lots of great photos and video of the event.  Will, over at the Tugster blog, has a great assortment of photos. See here, here and here. So does John Skelson and the Working Harbor Committee blog.
The Waterford Tugboat Roundup is a festival of food, music, historical tours, tugboat tours, crafts, and Saturday fireworks. There will be tugboat parades and competitions including line tossing and Nose to Nose Push-off, where the skill of the captains, the strength of the boat and the power of the engines are put to the test.