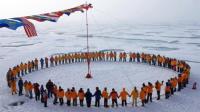 Reports are that Canada is filing a claim to extend its northern sea boundary to encompass an area of over 1 million square miles of Arctic seafloor which includes the North Pole, under provisions of the United Nations Convention on the Law of the Sea (UNCLOS). The Canadian are said to have spent the past 10 years and $200 million dollars to document the claim that they are expected to file with the UN today.  A preliminary assessment by the US Geological Survey suggests the Arctic seabed may hold as much as 25 percent of the world's undiscovered oil and natural gas reserves.   PressTV reports that "Experts say a decision on the Arctic seafloor is probably 20 years away, with scientific evaluation on Canada's claim taking roughly five years."
The Canadians are not alone in their claims. Russia, Denmark, Norway, and the United States all claim overlapping sections of the Arctic seas and sea floor. Of the group, the United States is alone in not having ratified the UNCLOS treaty.
Currently both Russia and Canada are claiming the North Pole.  The United Nations Convention on the Law of the Sea has provisions and clauses for adjudicating conflicting claims.  Disturbingly, however, it does not appear to have a Santa clause. (Sorry.) Thanks to Phil Leon for contributing to this post.