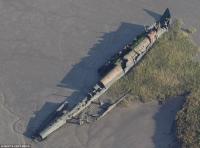 There was a recent story in the press about  the wreckage of a German World War I submarine beached of mudflats on the banks of the River Medway in Hoo, Kent.   The sub is, believed to be the UB-122,  one of the roughly 100 German submarines turned over to Britain at the end of the war.  The sub has been on the mudflats since 1921, but is in a remote area and is intermittently visible, depending on the tides and the action of storms.  As reported in the Daily Mail:
Yesterday marine archaeologist Mark Dunkley, the maritime designation adviser for English Heritage, said:  'Records show that the diesel engines were cut out of UB-122 and reused in a cement works at Halling in Kent – the U-boat's power plants thus serviced Britain's post-war industrial development.
'What we still don't know is exactly why or how UB-122 ended where it is. It's likely it was being taken up the Medway estuary to be broken up for scrap. Perhaps in a storm it parted from its tow, the cable snapped, and the prevailing winds blew it to Hoo.
'As to why it was left there, we can only speculate. It could have been too much of an effort to get to it, or perhaps it was a problem of navigation in how to get to it.
'Its interest is that it is the only known complete U-boat that can be seen in British tidal waters.'
The reappearance of the UB-122, I found myself wondering how many how many derelict or abandoned submarines might still be hanging around.  Apparently there are quite a few, from a wrecked Japanese Type A midget submarine ashore on Kiska Island, in the Aleutian Islands of Alaska to the remains of two XT-Craft midget submarines in Aberlady Bay, Scotland, UK, to an assortment of abandoned Soviet submarines.  For a  better list be sure to check out There's nothing sadder than the wreck of a once-great submarine.
Thanks to Alaric Bond for contributing to this post.