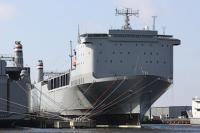 When it came to destroying Syria's most dangerous chemical weapons, there was a problem. No nation wanted to take the weapons and face the risks associated with destroying them on their soil.  Under an international agreement brokered by the US, Syria's most dangerous chemical weapons have to be out of the country by a December 31 deadline.  The apparent answer is to put the chemical weapons on a ship and destroy the chemicals at sea. The roll-on/roll-off ship MV Cape Ray (T-AKR-9679) is now being outfitting with the  U.S. Army's Field Deployable Hydrolysis System (FDHS). The FDHS was rolled out only this June and is a mobile chemical weapons disposal facility designed to destroy or make inert lethal chemicals and gases.
US prepares ship to destroy Syria's chemical weapons
The MV Cape Ray, part of the U.S. Maritime Administration's (MARAD)Ready Reserve Force, will be leased to the Navy.  The roll-on/roll-off ship was built in 1977 in Japan for Saudi Arabia's National Ship Co. as MV Seaspeed  Asia. She is one of three sister-ships purchased by the Maritime Administration in 1993 and converted for military use.