On the morning of December 7, 1941, USS Oklahoma was moored at an outside berth in the inner harbor at Pearl Harbor, Hawaii. When the Japanese attacked Pearl Harbor that day, the USS Oklahoma was directly in the flight path of the attacking planes.  USS Oklahoma was struck by nine torpedoes and rolled over in roughly 10 minutes. The diagram above shows the sequence of the capsize and the torpedo strikes that doomed the ship and four hundred and twenty-nine of her crew.
The USS Oklahoma was the last ship to be salvaged at Pearl Harbor.  The ship weighted about 32,000 metric tons and was rolled almost 180 degrees.  To right the ship, the Navy used a salvage technique called parbuckling.  Large A frames were mounted along the length of the hull to provide the leverage necessary to roll the ship.  The process took roughly four months and was finished in June 1943.  The ship was judged too damaged to be repaired. On the tow to a scrap yard in California, the USS Oklahoma sank in a storm in May 1947.
Salvage of the Battleship USS Oklahoma Following the Attack on Pearl Harbor 1942 1942-46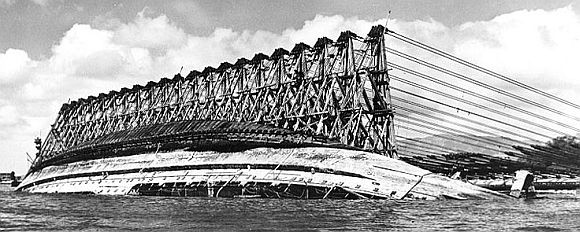 The parbuckling salvage of the USS Oklahoma was briefly in the news recently when the Costa Concordia was parbuckled where it sank on the island of Giglio, Italy.