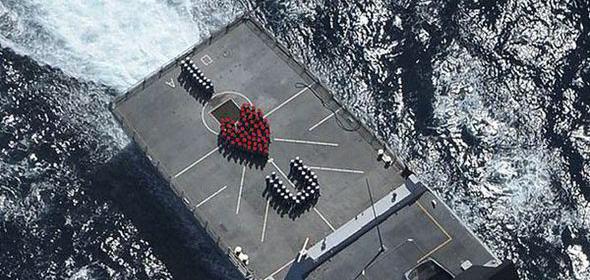 The crew of the HMS Daring spelled out a message on the the flight deck to their loved ones at home. The Type 45 destroyer is on her way home to Portsmouth, Hampshire, after having spent nine months on deployment.
Naval crew's Valentine's message
Lieutenant Jason Hannigan, the ship's operation officer, said: "We have proven this is a very capable warship, but without the support of our loved ones our sailors would not be able to operate at their best.
"Daring's naval family has been stretched over many thousands of miles, but we have all been there for each other."
A Royal Navy spokeswoman said: "Spelling out their heartfelt message on the flight deck on the most romantic day of the year, the sailors are eagerly anticipating seeing their families on the Portsmouth.
Thanks to Irwin Bryan for passing along the story and photo.