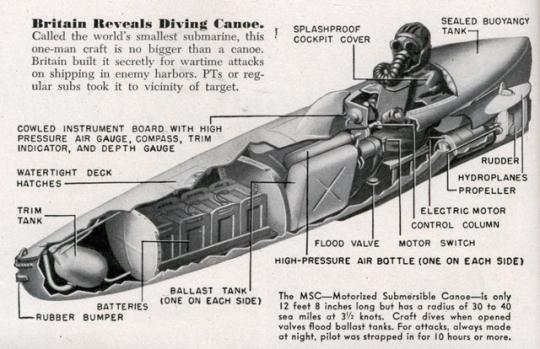 In World War II, the British government set up the Special Operations Executive (SOE) to to conduct espionage, sabotage and reconnaissance in occupied Europe. An unusual group, they were also known as "the Baker Street Irregulars," (because their headquarters was on Baker Street in London.)  They also earned the nickname "Churchill's Secret Army" and the "Ministry of Ungentlemanly Warfare."  The SEO operated Station IX, a secret factory for designing commando equipment in a mansion called 'The Frythe' north of London near the town of Welwyn.
One particularly unusual weapon developed at Station IX, was the Motorized Submersible Canoe (MSC). Designed by Major Hugh Quentin Reeves, it was intended to carry a single diver to carry out reconnaissance or sabotage missions inside enemy harbors.  The canoe got its nickname "Sleeping Beauty" when Reeves was found sleeping in it by a passing officer. The MSC was a 12 foot 8 inch long steel canoe with a beam of 27 inches, powered by a 5 hp electric motor, driven by four 6-volt batteries, with a top speed of 4.4 knots. The MSC could travel 30 to 40 nautical miles at a cruising speed of 3.1 knots with a maximum operating depth of 50 feet.
While the diving canoes were not very successful during WWII, their design is considered to be an an early prototype for the modern Swimmer Delivery Vehicle used by the US and other navies.
Britain Reveals Diving Canoe (Mar, 1947)