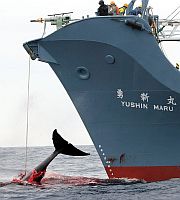 Great news. The UN's highest court has ruled against Japanese Antarctic whaling. The Japanese have notionally supported the commercial whaling moratorium adopted in 1982 but have exploited a loophole which allows for whaling for "scientific research."  As we posted last June, the the government of Australia, supported by New Zealand, filed a suit asking the International Court to halt the Japanese whaling fleet's annual trips to harpoon minke and fin whales. Today, the International Court of Justice at the Hague ordered a temporary halt to Japan's Antarctic whaling program, ruling that it is not for scientific purposes as the Japanese government had claimed.  As reported by CBC News:
Reading a 12-4 decision by the court's 16-judge panel, Presiding Judge Peter Tomka said Japan's program fails to justify the large number of minke whales it says it needs to catch under its current Antarctic program — 850 annually — and it doesn't catch that many anyway. It also didn't come close to catching the 50 fin and 50 humpback whales it aimed to take…  All that drew into doubt Japan's assertion that its whaling is for scientific purposes, he said…
"The court concludes that the special permits granted by Japan for the killing, taking, and treating of whales … are not 'for purposes of scientific research'," Tomka said.
Japan said it would abide by the ruling but added it "regrets and is deeply disappointed by the decision".  Norway and Iceland continue to engage in commercial whaling in violation of the moratorium.