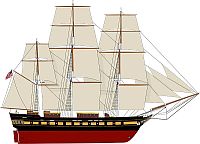 I recently booked a berth on the SSV Oliver Hazard Perry  on a passage next September from Newport to Bermuda under the command of Captain Richard Bailey.  I find it hard to believe that it was so long ago, but nevertheless, 17 years ago, I sailed aboard the replica frigate HMS Rose from New York York to Bermuda with a group of Patrick O'Brian aficionados. Captain Richard Bailey was in command and he and his capable crew did a fine job managing the enthusiastic, but often clueless volunteers with skill and grace. (Who would have thought that herding cats would be a skill required of professional mariners.).  I am very much looking forward to the upcoming voyage.
In January, we posted about the upcoming Youth Adventure Summer Camp on board the sail training vessel Oliver Hazard Perry for students between students between the ages of 13 -18 this August.  Click here to learn more.
Next September, 2014 the SSV Oliver Hazard Perry will be offering sail training berths for adults on several voyages.  The first two legs are from Newport to Baltimore to join the celebration of the 200th Anniversary of our National Anthem at the Star Spangled Spectacular Celebrations at Fort McHenry.
Saturday September 6, 2014 to Thursday September 11, 2014: 6-day (5-night) voyage sailing from Newport to Baltimore
Monday September 15, 2014 to Saturday September 20, 2014: 6-day (5-night) voyage sailing from Baltimore to Newport
The other voyages are from Newport to Bermuda, and Bermuda to Portland, Maine. In addition to the ship's seamanship course, instruction in celestial navigation and meteorology will also be offered..
Sept 21- 28, 2014: 1-week voyage sailing from Newport to Bermuda
Sept 28 – Oct 5, 2014: 1-week voyage sailing from Bermuda to Portland, ME
When completed this year, the SSVOliver Hazard Perry will be the first ocean-going full-rigged ship to be built in the U.S. in 100 years and the largest civilian sail training vessel in America.  With a sparred length of almost 200 feet, she will carry 14,000 square feet of sail on three masts. Based in Newport, SSV Oliver Hazard Perry will be Rhode Island's official sailing education vessel and flagship non-profit maritime campus, offering experience-based, core learning opportunities to a diverse student population, including those with disabilities.