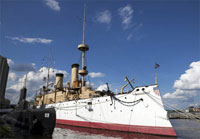 After a three year bidding process to attempt to find a new home for the historic cruiser Olympia, the Independence Seaport Museum has announced that it will keep the ship after all.
Four groups originally bid on taking over the ship but none were considered to be viable.  The museum also noted that the ship was responsible for half of the museum's 70,000 annual visitors. Museum president John Brady has announced a $20-million national fundraising campaign to support repairs to the cruiser.  The museum had previously claimed that it could not afford to keep the historic ship.
Built in 1892, the cruiser Olympia was Commodore George Dewey's flagship at the Battle of Manila Bay during the Spanish-American War in 1898 and is the oldest steel warship afloat. She has been a museum ship in Philadelphia since 1957.  In February of 2010, the Independence Seaport Museum announced that it could not afford to keep the Olympia. The museum suggested that it might sink the ship as an artificial reef. Fortuitously, the alternative was ruled out because the museum lack the millions of dollars necessary to dredge around the ship to allow her to be towed away. The Olympia was last drydocked in 1945. In 2010, dredging to move the ship to a drydock was estimated to cost $10 million with another $10 million required to make necessary repairs.