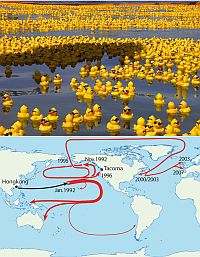 Yesterday, we posted about the Big Rubber Duck, which is scheduled to lead the Tall Ships Grand Parade of Sail at the Tall Ships Festival L.A., August 20, 2014. One commenter suggested that we needed more rubber ducks while another suggested that we needed a ship load. This brought to mind a sea story from more than 22 years ago.
On January 10, 1992, the container ship Ever Laurel, on a voyage from Hong Kong bound for Tacoma, Washington, lost twelve 40-foot containers over the side in a North Pacific storm near the 45th parallel and the International Date Line. One of the containers contained 28,800 bath toys, marketed as 'Friendly Floatees' by the company The First Years, Inc.  The 'Friendly Floatees' were yellow ducks, as well as red beavers, blue turtles, and green frogs.  The container carrying the bath toys broke open and an armada of ducks, beavers, turtles and frogs was cast loose upon the stormy Pacific. Unlike many bath toys, Friendly Floatees have no holes in them so they do not take on water.

Oddly, the Friendly Floatees were a bonanza for scientists studying ocean surface currents. Typically oceanographers would release 500–1000 "drift bottles" and usually only recover around 2% or 10-20 bottles. The Floaties were durable, easily identifiable and drifting in large enough numbers to provide a lot of data. Seattle oceanographers Curtis Ebbesmeyer and James Ingraham began tracking them.  This was not their first experience tracking lost cargo floating in the ocean. They had also tracked 61,000 Nike running shoes that had been lost overboard in 1990.
So where did the ducks, beavers, turtles and frogs end up?  Within 10 months some started landing on beaches in Alaska. Over the next year, 400 were found along the eastern coast of the Gulf of Alaska.  Within three years, caught on the Subpolar Gyre, Floatees began to wash ashore in Japan. The toys also drifted to beaches in the Hawaiian islands.
Between 1995 and 2000, some floated north of the Bering Strait and drifted with the pack ice into the North Atlantic.  By 2001, the bath toys were drifting ashore on the coast of New England and by 2003 Floatees were found on beaches in the New Hebrides, islands North-west of Scotland. Some predicted that the toys would start arriving in the UK by 2007, but so far none have been reported.  (One rubber duck found on the Devon coast turned out to be made by another manufacturer.)  Oceanographers are predicting that Friendly Floatees may eventually drift onto the beaches of Australia, the East Indies and the West coast of South America.
In addition to washing up on our beaches, the Friendly Floatees have caught our imagination. There been the subject of at least three books —  a children's book, 10 Little Rubber Ducks, by Eric Carle, Moby Duck by Donovan Hohn and FLOTSAMETRICS AND THE FLOATING WORLD: How One Man's Obsession with Runaway Sneakers and Rubber Ducks Revolutionized Ocean Science by Curtis Ebbesmeyer and Eric Scigliano.
NASA has also started using its own rubber ducks to study glaciers.
In the last decade, Floatee finds by beachcombers have tapered off. The ducks are no longer yellow and the beavers no longer red. The salt water and sun have bleached them white, though they are still easily identifiable by the The First Years label molded into the bottom.  The turtles and frogs, however, are still blue and green, if somewhat faded. The last report of a Friendly Floatee to be logged by Curtis Ebbesmeyer was a frog in August of last year.
As reported by CNN: Once the tale of the tub toys is over, Ebbesmeyer says he still has plenty of other container spills to help him track the currents — 34,000 hockey gloves and 5 million Lego pieces were dropped in the ocean 16 years ago, for example.
"It's a strange thing to be living on a planet and not know what's in 70% of it," Ebbesmeyer says. "You literally never know what's going to wash up onto shore."
Drewry Shipping Consultants say that 183 million TEUs (20-foot equivalent units) are moved globally by sea every year and at any one time, approximately 6.7 million containers are in transit.  No one knows how many containers are lost over the side every year. The estimates range from about 350 to over 10,000 containers lost yearly.  No one is required to keep track.  The real lesson of the Friendly Floatees is that what we dump in the ocean, on purpose or by accident, does not go away.