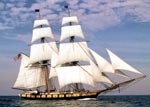 Good News — the State of Pennsylvania has committed $4.8 million for a major overhaul of the Brig Niagara.  As reported by YourErie.com: 
"Maintaining the Brig Niagara, a sea-going legacy of American freedom and the sacrifices of the men who sailed her into battle almost 200 years ago," said Gov. Tom Corbett. "This will keep her seaworthy but it is also an investment in the history of our great state, in the continuing, hands-on education of the young who can come here and walk her decks, examine her cannons and hear a story of freedom's struggle." The re-fit will increase the Niagara's stability. The depth of the vessel will be increased by twenty inches and approximately sixteen tons of internal ballast will be added. These changes will greatly improve its safety, allow it to meet stability regulations and improve its capabilities.
"We expect this refit to prolong the active service life of the ship by twenty to twenty five years, compared to maybe five or six, while making the ship safer and better able to carry out its mission," said Walter Rybka, Administrator and Senior Captain of the U.S. Brig Niagara. "The design changes intended at this refit will have a small negative impact on authenticity, and a very large positive impact on safety," he added.
Construction is expected to begin no later than 2016. Once the re-fit begins, the work should take approximately 15 to 18 months.
In 1813, during the War of 1812, at the Battle of Lake Erie, Commander Oliver Hazard Perry's flagship Lawrence was sinking from battle damage.  He hauled down his battle flag, which ironically read "Don't Give Up the Ship," rowed a half mile through heavy gunfire to take command of the Brig Niagara. With the Niagara as his second flagship, the Americans won the battle, turning the tide of the conflict in the west. The lack of control of Lake Erie denied the British supply lines to support their troops and led directly to the American recapture of Detroit and victory at the Battle of the Thames.