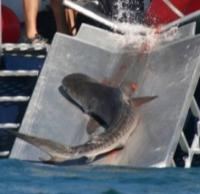 In the last decade, ten people off Western Australia have been attacked and killed by sharks.  All of the deaths have been attributed to attacks by great white sharks. Earlier this year, the government of Australia set out on a trial program to "cull" dangerous sharks, targeting, in particular, great whites.  The initial results were not encouraging.
The three month program, which involved placing drum lines along seven of the state's most popular beaches, caught 170 sharks of which 50 were destroyed.  Of the 170 sharks caught, none were great white sharks. Tiger sharks were the most commonly caught there were also five protected makos, four of which were either killed or found already dead on the line.  All sharks killed were over 3 meters long. The cost of the program worked out to be around Au$25,000 per shark.
Now, despite the high cost and the failure to catch a single great white shark, a review by the Australian government has given the culling program a greenlight to be renewed for a three year period. Despite this endorsement, there is still considerable opposition.
Western Australia Shark Cull Gets Green Light Despite Costing $25,000 per Shark
Lynn MacLaren from the Green party said the government was throwing money at a programme designed only to make people have the sense of being safe.
Chris Lowe, professor of marine biology at California State University, echoed MacLaren's comments earlier this year, saying the shark cull lulls people into a false sense of security, making the water more dangerous in the long run.
Dave Kelly, shadow fisheries minister, said: "Every (fatal) shark attack in WA in the last 10 years is believed to be … from a great white shark. Even on that basic measure this policy has been a failure.
"You can't say you're responding to the spate of fatal shark attacks seen here in WA if you're not catching the shark everybody believes is responsible."