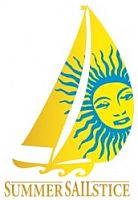 What is the best way to celebrate sailing?  My first response is to say, go sailing.  Sailing, seems to me, to be its own celebration. There is that moment when everything falls into balance — when the force of the wind on the sails, the lift of water flowing across the keel, the drag of the eddies boiling off the hull —  when you can feel the perfect equilibrium of all the forces of the sea and sky in the gentle tug on the tiller or wheel. That instant is, for me at least, the perfect celebration of sailing.
OK, enough rhapsodizing. My thoughts were triggered by an organization and a series of events referred to as Summer Sailstice.  What is Summer Sailstice? According to its website, it is "a worldwide celebration of sailing on the weekend closest to the summer solstice – this year the solstice falls on a Saturday, June 21, 2014!"  OK.  Perhaps I am being more dim than usual, but that still doesn't quite answer the question.  Digging a bit deeper I find that, "Summer Sailstice was founded in February 2001 by John Arndt, as the global, annual celebration of sailing held on the summer solstice.
The annual Summer Sailstice sailing event is free to all participants and has grown from 200 boats signed up in 2001 to almost 5,000 boats today. Since many sailors join in the fun on many different boats, the actual number of Summer Sailstice sailors participating is estimated at almost 19,000 annually.
In joining with Sailors for the Sea, Summer Sailstice strives to inform and mobilize sailors, their families and communities to enjoy and conserve the beauty of the oceans and while raising awareness of human impacts on the fragile marine environment and wildlife."
I'm still not sure I get it. Reading further, under the category of "Why Celebrate Sailing?":
Sailing has expanded the horizons of the human race, connected continents and cultures, enriched the lives of mankind and, to this day, continues to bring millions under its spell. Summer Sailstice is dedicated to celebrating the full mosaic of the sailing culture. By celebrating sailing Summer Sailstice will help the non-sailing world discover sailing, help connect sailors and connect more people to caring for the oceans and waters upon which they sail.
Well, OK then. It is still not entirely clear to me what, why or how this is all supposed to work.
I checked out the events in my immediate area and the only one close by is the "Hudson Hullabaloo" — "Fleet members take to the river to enjoy the city views, returning for docktails at the Seashell!" sponsored by Sailtime, Chelsea Piers, NYC.  Sounds like a good time, although I am not sure how this differs from any other summer weekend.
Ironically, perhaps, I am debating whether or not to take my little catboat out into New York harbor today on the first day of summer.  There is so much going on that I am concerned that the traffic might detract from peaceful sailing.
But, yes, we should all celebrate sailing, however one can do so, whether it be from the deck of a sailboat or the pages of a book. Sailing is indeed worth celebrating.
And what if you don't have your own sailboat or have access to friends with a boat?  One great way to celebrate sailing is to support traditional sailing vessels. Fortunately, there is a fleet of sailing vessels up and down the coast  offering day sails to those who want to get out on the water.  Some of these are also looking for volunteers to help maintain and to sail the boats.
In New York, buying a ticket on the South Street Seaport Museum's 1885 built schooner Pioneer is a great way to both celebrate sailing and New York's maritime heritage.  Just across the river, 1928 Delaware Bay oyster schooner, AJ Meerwald, will also be offering sailing trips this weekend from Liberty State Park.  Both schooners are sailed by dynamic groups of volunteers.
Thanks to Irwin Bryan for contributing to this post.