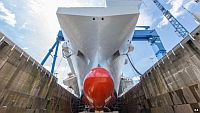 Today, Great Britain's Queen Elizabeth II christened the Royal Navy's new aircraft carrier, HMS Queen Elizabeth. As the ceremony was held in Rosyth, Scotland, the queen christened the ship with a bottle of whiskey from the Bowmore Distillery, rather than the more traditional champagne. The new carrier will be the largest warship ever constructed for the UK. With a displacement of 65,000 tonnes, the ship is 280m long, about 70m wide, and carry some 1,600 personnel, including air crew. The new ship is roughly three times the size of HMS Illustrious, the Royal Navy's remaining carrier.
The ship, which has been under construction for the past five years, is still several years away from entering service. The crew is expected to move aboard in May 2016. Sea trials should begin in October 2016 and the ship is expected to be handed over to the Royal Navy in early 2017. F-35 fighter planes, purchased from the United States, should arrive by around 2018 ahead of an operational military capability in 2020.
HMS Queen Elizabeth is expected to have a delivered cost of £6.2bn. The original cost was estimated to be just over £3bn when the contract was signed in 2007.
Plans to have an F35 fighter plane participate in the christening ceremony were scrapped due to repeated project failures.  Yesterday, the Pentagon grounded its entire fleet of F-35 Joint Strike Fighter jets following an June 23 engine fire on an F35 which is still under investigation. As reported by the Wall Street Journal, "the F-35, the Pentagon's most expensive weapons program at $399 billion, has been beset by problems that have included failing tires, engine oil leaks and issues with pilot helmets. Development costs have risen and the military services due to operate the jet have had to delay plans to operate the plane."
Thanks to Alaric Bond for contributing to this post.