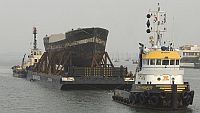 The composite clipper, City of Adelaide, built in 1864, is the world's oldest surviving clipper ship. Between 1864 and 1887 the ship made 23 voyages from London and Plymouth to Adelaide, South Australia. Approximately a quarter of a million Australians can trace an ancestor that migrated, or was a passenger, on the City of Adelaide. The historic clipper was recently transported to its namesake city, following a lavish send off featuring Prince Philip, the Duke of Edinburgh, on the River Thames at Greenwich near London.
Apparently, the reception that the ship has received in Australia has been somewhat less enthusuastic.  South Australia's Department of Environment, Water and Natural Resources CEO Allan Holmes has called the clipper restoration project an "indulgence" and "eventual taxpayer burden."  He went on to say,"I'm not a supporter, I think it's the last thing we need. As a government official I know where this is going to end up, they'll come calling on government to pay the bill, there's no doubt about that. Government will be under enormous pressure because we have this hulk, this wreck in the port with public expectation that something is going to be done about it."
City of Adelaide clipper restoration project an indulgence and eventual taxpayer burden, SA Environment Dept says
In contrast, a few years ago, the City of Adelaide zoo spent close to $30 million building a pavilion for borrowed Chinese pandas.   It appears that borrowed pandas have a higher priority to government officials than Australia's maritime heritage.