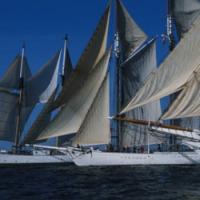 Ocean Classroom Foundation, a non-profit organization based in Maine, has run educational programs for students aboard schooners for almost 20 years.  Sadly, it will be closing down at the end of the summer; it's three schooners will be put up for sale at auction. As reported by The Bangor Daily News and the Portland Press Herald, the organization had too much debt, too little cash flow, and two schooners out of service for maintenance and repair.
The OCF owns three schooners, Spirit of Massachusetts, Harvey Gamage, and Westward.  Only the Harvey Gamage is currently sailing, but is expected to require roughly $100,00 in maintenance at the end of this season. The Spirit of Massachusetts, which is currently laid up in Portland, is in need of a major overhaul, which is expected to cost roughly $700,000.  Both the Harvey Gamage and the Spirit of Massachusetts are built of wood.  The Westward, which OCF acquired in 2003, is steel and requires a major re-plating, also expected to cost in the range of between $700,000 and $750,000. The Westward has not operated for the past two years.
With only one schooner operating, OCF has been unable to to pay the debt service on a $2.2 million mortgage from Camden National Bank. A representative from Camden National is quoted as saying, "The bank is currently working with Ocean Classroom to find a solution that works for both parties." Tax records show the organization reported to the IRS that its revenue was $1.5 million in 2012, while its expenses were $1.7 million.