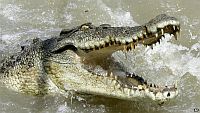 A 57 year old fisherman, wading in the Adelaide River, south of Darwin, was attacked and killed by a 15 foot long (4.5 metre) crocodile.  The fisherman was attempting to unsnag his line when attacked.  As reported by the BBC:  The attack took place in a stretch of the river close to where cruise ships show sightseers crocodiles leaping from the water to snatch chicken carcasses suspended from poles. The killer crocodile is believed to be a rare half-albino who had regularly approached the cruise ships.  This is the fourth person to be killed by a crocodile in Australia's Northern Territory this year.  In the recent past, deaths from crocodile attack have averaged about one a year. The crocodile population has increased since being declared a protected species in 1971.
Last year about this time, we posted about an Australian kayaker who was trapped on an island in the Timor Sea for two weeks by an aggressive crocodile  and a young swimmer who was killed by a crocodile after ignoring warning signs in Australia's Mary River.
In other crocodilian news, a five-person Alabama family crew of gator-hunters killed a 1,015-pound alligator this weekend, which is believed to be the worlds largest alligator ever killed. The Alabama wildlife department says hunting helps with population management and preventing attacks by keeping the alligators afraid of humans.
Thanks to Alaric Bond for contributing to this post.