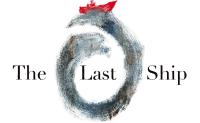 Just over a year ago, I was surprised — shocked might be a better word — to hear of a play about a shipyard. The Boat Factory was set in Harland & Wolff of Belfast, the shipyardyard that built theTitanic as well as roughly 1,700 other ships. The play was staged in a small off-Broadway theater and had a cast of only two, yet it was heartfelt and very entertaining. I also suspected that it might be the last play I would ever see about a shipyard. I was wrong.
Last night, my wife and I saw the first preview performance of a new Broadway musical, "The Last Ship," with music and lyrics by Sting and a book by John Logan and Brian Yorkey.  Said to be inspired by Sting's childhood, the musical is set in a shipbuilding town on the Tyneside at the Wallsend Swan Hunter shipyard.
So how was it? I can say without a doubt that it was the best Broadway musical set in a shipyard that I have ever seen. OK, that is setting the bar too low. 
The music was wonderful. The cast was strong — beautiful voices and fine acting. The choreography was engaging and the set managed to capture the feel of both the shipyard and the shipyard town. The one weakness was the book. The story was pleasant fantasy and the characters never quite connected. Still, I enjoyed "The Last Ship."  On balance, it was an enjoyable evening.
The play begins with a 15 year old boy, Gideon, leaving his abusive father and the shipyard town where he sees no future, to explore the world.  He promises his girlfriend that he will return to her and signs aboard an outbound ship.  Gideon returns 15 years later after the death of his father, to find the shipyard shutting down and his ex-girlfriend with a long term boyfriend and a son. Gideon's attempt to rekindle his past relationship runs parallel with a rather silly plot line where the displaced shipyard workers take over the shut down shipyard to build the "last ship" of the title.
The music, setting and dance carry the play along under their own power. It hardly matters that the story doesn't make much sense or whether or not you end up caring greatly about the main characters. It was a bit like the chorus of the song "Last Ship" describing a ship launching:
Oh the roar of the chains and the cracking of timbers,
The noise at the end of the world in your ears,
As a mountain of steel makes its way to the sea,
And the last ship sails. 
The "Last Ship" has its own sort of momentum that carried me happily along.