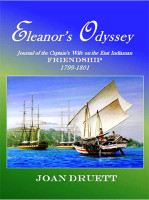 In 1799, Eleanor Reid was only 21 and newly married to Captain Hugh Reid, commander of the Honorable East India Company extra ship Friendship. It was her husband's first command and he was under orders to carry a cargo of Irish convicts, the result of an Irish uprising the year before, to New South Wales. French privateers prowled the seas. The East Indies charts were rudimentary, at best, not to mention all the other perils of the sea. Nevertheless, Eleanor would join her husband on the voyage. Not only was Eleanor rather fearless, but she was also a keen observer of the life aboard ship and of the cultures of the myriad islands and ports on a voyage that will continue beyond New South Wales, through the East Indies archipelago and on to India.
Eleanor's Odyssey: Journal of the Captain's Wife on the East Indiaman Friendship 1799-1801 is a fascinating voyage, alternating between excerpts from Eleanor's journal's, and insightful and entertaining commentary by Joan Druett. The commentaries provide the background behind all the aspects of the trip which would  otherwise be either meaningless or mysterious to a modern reader.  From the extensive wardrobe requirements of the an East Indiaman captain's wife; to the courses Hugh plots in an attempt to keep his rather slow ship, even by Indiaman standards, away from privateers; to the societal conventions afloat and ashore; Druett brings Eleanor's journals to life by providing context to what Eleanor is observing. The commentaries also provide the idiosyncratic details which illuminate the lush and varied background of life aboard ship as well the exotic regions they sail through. The book is full of intriguing details such as how a modest lady might deal with severe and chronic constipation from shipboard food, or that the East India Company was still relying on "lunars" to calculate longitude decades after Harrison's chronometer made navigation simpler and safer.  Both the print book and the ebook are well illustrated, a rarity in an ebook in particular.
Eleanor's Odyssey is a wonderful trip around the globe with two fascinating women — Eleanor Reid as narrator and Joan Druett as translator and guide. Highly recommended.