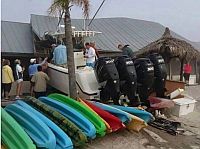 A quick quiz — you are the captain of a 39′ fast sports fishing boat with six passengers and a heavy sea fog has just set in. You either lack or are paying no attention to electronic navigational aides.  What do you do?  When Captain Matt Santiago was faced with this question yesterday, his answer was apparently to go faster.  His See Vee sports fishing boat had four 300 HP outboard motors, or 1,200 HP in total, and according to the manufacturer is capable of "speeds in the 50 – 70 mph range."
Reportedly, Captain Santiago and his See Vee sports fishing boat were traveling at approximately 40 to 50 mph when they hit the beach at Little Harbor in Ruskin, Florida near Tampa. The boat flew across close to 100 feet of beach and crashed into the Sunset Grill Restaurant, where dozens were eating. The restaurant roof collapsed onto the boat.  Miraculously, no one was killed or seriously injured.  Captain Santiago said that he couldn't see the restaurant in the fog. Not surprising as he could, no doubt, not see anything in the fog. Which still didn't stop him from operating the boat at high speed in zero visibility.
To be fair, this sort of stupidity is not solely limited to power boaters. Just last week, the Coast Guard rescued an Australian father and son, who sailed out in winter blizzard from Newport, Rhode Island, in a 43′ racing sailboat that they had picked up on the cheap on Ebay. The Coast Guard had repeatedly warned the duo not to sail in those conditions, but were ignored. Two days later the pair called to be rescued after their sails ripped and their engine failed.  The Coast Guard Jayhawk helicopter battled near hurricane force winds to reach the disabled boat 140 miles off Nantucket. Once again, no one died, but the lives of the Coast Guard professionals were put at risk and significant taxpayer money was expended.
Coast Guard rescues sailors 140 miles off Nantucket
Thanks to Phil Leon for contributing to the post.