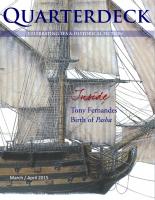 As we mentioned in Part 1 of this post, two excellent nautical newsletters came out within the past few days — Astrodene's Historic Naval Fiction Log Book and McBook Press' Quarterdeck. Both feature news and reviews of nautical fiction and non-fiction and each also feature reviews of new books by several Old Salt Press writers. A few excerpts from McBook Press' Quarterdeck:
From George Jepson's review of Eleanor's Odyssey by Joan Druett:
Each leg of her journey opens new vistas of history in crisp, vivid prose that put me in mind of Patrick O'Brian's Jack Aubrey and Stephen Maturin novels. Joan Druett is an authoritative voice in maritime history told by those who lived it. This book is recommended for anyone who seeks adventure at sea.

From Ted Grauer's review of Britannia's Shark by Antoine Vanner:
This historical spy thriller reveals attempts by the insurgents to design, build and operate the first submersible craft in a deadly underwater campaign, which thwarts the Royal Navy's conventional capabilities. Dawlish and an American agent are antagonists in their attempts to bring submarines into use as legitimate naval weapons.

The pace is fast and furious, with plot twists and turns, as Dawlish tries to capture the prototype submarine and either get into the hands of the English or keep it out of the hands of the United States.
Quarterdeck is a beautifully written and produced newsletter/magazine. Be sure to also check out "PASHA — The Birth of a Novel" by Julian Stockwin and "TONY FERNANDES — 'Treasure Island … blew the lid off my world'" by George Jepson.