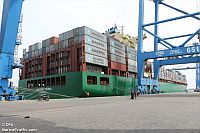 The Marshall Island flagged container ship Maersk Tigris sailing from the Saudi port of Jeddah, bound for the United Arab Emirates port of Jebel Ali, was intercepted by Iranian forces in the Strait of Hormuz. As reported by Bloomberg, the ship was on an "internationally recognized maritime route" when it was intercepted by the Iran's Islamic Revolutionary Guard Corps naval force, State Department spokesman Jeff Rathke told reporters in Washington. Cor Radings, an external spokesman for Rickmers Ship Management, the vessel's manager, said it was in international waters and it wasn't clear why it had been halted.
CNN reports: "The master was contacted and directed to proceed further into Iranian territorial waters. He declined and one of the IRGCN craft fired shots across the bridge of the Maersk Tigris," said Warren, referring to the Iranian Revolutionary Guard Corps Navy. "The master complied with the Iranian demand and proceeded into Iranian waters in the vicinity of Larak Island."
After the shots were fired, the Maersk Tigris issued a distress call which was picked up by U.S. forces in the area and the destroyer USS Farragut was ordered to head towards the incident. The U.S. Navy has also sent aircraft to monitor its status.
Thanks to Phil Leon for contributing to this post.