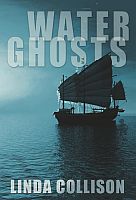 I am very excited about Linda Collison's new book, Water Ghosts. Coming soon from Old Salt Press.  A teenaged boy on a summer adventure sailing aboard a traditional Chinese junk, believes the ship to be controlled by ghosts from the Ming Dynasty, and sailing to its doom.
I see things other people don't see
I hear things other people don't hear
Fifteen-year-old James McCafferty is an unwilling sailor aboard a traditional Chinese junk, operated as adventure-therapy for troubled teens.  Once at sea, the ship is gradually taken over by the spirits of courtiers who fled the Imperial court during the Ming Dynasty, more than 600 years ago. One particular ghost wants what James has and is intent on trading places with him. But the teens themselves are their own worst enemies in the struggle for life in the middle of the Pacific Ocean. A psychological story set at sea, with historical and paranormal elements.