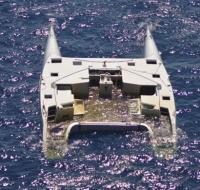 After five months, an abandoned catamaran has been sighted by a passing container ship. On January 30th of this year, Rainmaker, a brand new a $2.5 million carbon fiber Gunboat 55 catamaran, the first of its class, set off on a voyage from the Gunboat yard in North Carolina to St Martin in the Caribbean. Roughly 200 miles off the North Carolina coast, the boat dis-masted in a severe squall. The five crew were airlifted to safety by the Coast Guard and the boat was abandoned. Now five months later, the Hapag Lloyd container ship, Chicago Express, has spotted the derelict catamaran roughly 650 miles east of Cape Hatteras.
Sailing Anarchy reports that the container ship captain sent the following message:
We found your Boat yesterday on this given location. We are on the way from Charleston to Le Havre, this is is a gearless Container Vessel, so we can't do any savings.  I did't make any rescue manoever to check the Boat. Hull looks in good condition. The danger is that any ship at night will crash into this hull, then I guess it will be damage.
with kind regards
mit freundlichen Gruessen
G. Reinhard Peer
Master
———————
"CMV Chicago Express"
Chicago Express is an 8,749 TEU containership and is also one of two training ships on which Hapag-Lloyd trains its nautical and technical personnel.  If the name of the container ship sounds vaguely familiar, it may be that is because another Hapag Llyod container ship, Houston Express, rescued Louis Jordan last April after he had suffered a knockdown and had been dis-masted in his Alberg 35 also off the North Carolina Coast. Jordon also set out in January. He drifted 66 days before being rescued by the container ship.
The derelict Rainmaker spotted by Chicago Express appears to be missing her cabin as well as her rig.  The video below is a Yacht World sail test of a sister vessel off Anquilla.
Gunboat 55 Yachting World test
As beautiful and powerful as a Gunboat 55 may be, it should go without saying that Cape Hatteras in the winter is an unforgiving place. It is called "the graveyard of ships" for good reason. The nickname applies even to expensive carbon-fiber yachts.