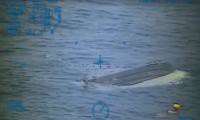 On Friday, two 14 year old boys went missing in the Atlantic off Jupiter, FL. Their 19′ boat was found capsized on Sunday night. The Coast Guard, and now the Navy, is continuing the search for the teens, Austin Stephanos and Perry Cohen.
The missing boys reminded me of how easily that could have been me, almost a half century ago. Open water can be such a glorious and also very dangerous place if you are young, adventurous and think that you know what you are doing.
When I was around 15, my family moved to Treasure Island on the west coast of Florida. I got a job cleaning boats at a local marina and saved enough to buy an old 16′ runabout with a 33 hp outboard motor.  Most of the time I used the boat to run around the sheltered waters of Boca Ciega Bay, but I would often head out through John's Pass into the Gulf of Mexico to go fishing or just cruise around offshore.
I fell in love with open water. The Gulf was magical. On clear and calm days, you could see the sunlight shining through the bottle green swells. With my droning outboard, I raced the wind and cruised with dolphins, sharks, rays and wheeling sea birds. On stormy days, I hooted and hollered as the boat crested the rising waves.
Sometimes I took friends. Often I went alone. I didn't have a radio. This was long before cell phones. I had flares; life jackets, though I never wore one; and a paddle. But I was 15 and therefore invincible. Sometimes it is enough to be more lucky than smart, and like so many others, I was lucky.
All these years later, I look back with both intense fondness and with a shudder. I had such a wonderful time being really stupid out in the Gulf of Mexico. There were so many ways I could have died. The boat could have capsized. I could have been thrown from the boat, been carried off by a storm, gotten lost in the sea fog, or lost my engine and just drifted off towards Mexico. Nothing bad happened to me, but it was not for lack of trying. Unfortunately, it only takes one time for luck to turn against you.
These days, older and more aware of life's calamities, I am a big fan of wearing an life inflatable jacket or vest. When I go sailing or kayaking, I always bring along a handheld radio as well as a cell phone in a drybag.  I am looking into what is the right Personal Locator Beacon for an upcoming offshore trip. Safety harnesses and jack stays are my friends. I let folks know where I am going and when I will return. I still enjoy myself tremendously on the water, even if spend more time worrying about all that can go wrong. With time and experience, we all learn to enjoy the beauty and the majesty of open water, without losing sight of its dangers.
What happened to the two missing 14 year olds, Austin and Perry? Some news reports said that were heading to the Bahamas, while other accounts say that relatives said they were not allowed to leave Jupiter Inlet.  The Little Bahama Bank is roughly 50 miles due west of the inlet. Their capsized boat was found over 100 miles to the north, probably having been carried north by the Florida Current, part of the Gulf Stream. The Coast Guard, joined by the Navy's USS Carney, an Arleigh Burke-class destroyer, is searching, by air and sea, an area covering 29,000 square nautical miles. We can only wish the searchers the best of luck.
Yesterday, the Washington Post published a related article by Peter Holley, Marine experts say missing Fla. teenagers should not have been alone offshore, which also features some valuable insights by Mario Vittone and Derrick Fries, as well as some of my comments as well.