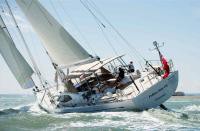 In early July, the year old Polina Star III – an extended 90ft version of the Oyster 825 — suffered some sort of hull failure and sank off the East Coast of Spain. The Oyster press release describes it as a "a serious incident which compromised the integrity of the moulded hull."  The five crew were rescued by the Spanish Coastguard before the vessel sank on July 4th. What happened to Polina Star III, delivered last May?  Divers have been sent to investigate the wreck. So far, the company has only said that "the possibility of impact with an underwater object propagating structural failure has not been ruled out. Recovery of the vessel will facilitate further detailed investigation."
Surprisingly, the only reporting that we have seen of the sinking is in the Oyster statement posted on their website on July 24th. The statement goes on to say:
Oyster used industry standard Classification Society rules for the design of the vessel and the calculations have been analysed by an independent expert in composite construction. He has verified that the design, which incorporates an internal structure not used in any other Oyster yachts, has appropriate safety factors. Another expert in composites has been engaged to provide a finite element analysis, which is being supported by ultrasonic tests and inspections of mouldings of the other Oyster 825s. Oyster is also in discussion with another Classification Society for an overall review of the design and the processes being used now to establish cause and a senior composite surveyor, recently retired from Lloyds Register, will assist in the verification process.
Oyster has no reason to believe that any other yachts in the range are in any way at risk. The structures and mouldings of the other Oyster 825s (two currently on the water and three in build) are being investigated to ensure that these yachts are safe, seaworthy and built to the exacting design standards that Oyster adopts.
Thanks to Smackdaddy on the SailNet.com forum for passing along the news.