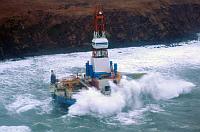 For several years, we have followed Shell Oil's expensive, dangerous and almost farcical attempts to drill for oil in the Chukchi Sea in the Alaska's Arctic. Shell has faced protests, multiple groundings, technical failures, and citations for safety and pollution violations. Worst of all, while Shell has spent an estimated $7 billion to get to this point, oil prices have plummeted to under $50 per barrel. Most estimates of the break even price of Arctic oil is well above $100 per barrel, that is if they find oil, which so far Shell hasn't, at least in any quantity. Today, Royal Dutch Shell announced that it would stop exploration off the coast of Alaska "for the foreseeable future." 
What happened? Based on the number and range of foul-ups, it appears that Shell underestimated the challenges of Arctic operations. The largest problem may be that Shell simply didn't find much oil. The potential for a big strike was there. The US Geological Society estimates there could be 90bn barrels of oil beneath the Arctic Ocean.  As noted in the Guardian: "The biggest thing that could go wrong is Shell not finding enough oil. Gas up there is worthless because it is so far from the end market and because of shale in the US," said Chris Wheaton, energy fund manager of Allianz Global Investors – a significant Shell shareholder. Shell's exploratory well, however, "found indications of oil and gas, but these are not sufficient to warrant further exploration," which is close enough to a dry well.
From an environmental point of view, drilling in the Arctic could be a nightmare. The justify the high cost of extraction, Shell and others would have to pump a considerable volume of oil from the Arctic seafloor. Oil spills would be virtually inevitable and no one really knows how to clean up a spill in the Arctic.
Even if they had found oil, in the next few years, it is unlikely that anyone would be able to pump oil profitably. In August, Alexis Arthur, writing in Oilprice.com asked, Does Arctic Drilling Have A Future With Sub $50 Oil?  He writes:  With Arctic exploration and production being so expensive, the risks so great, and the current market conditions relatively unfavorable, one might ask why Shell, ENI, and others would continue.
Today, Shell answered his question, by pulling out of Arctic drilling "for the foreseeable future."