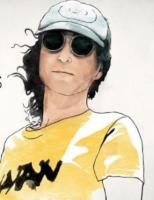 I recently came across a sea story, that, like the best sea stories, has been retold enough times so that the details tend to wander from one version to the other. This much appears to be true. Thirty-five years ago, John Lennon, of Beatles fame and one of the great songwriters of his era, was suffering from depression and writer's block. Lennon, whose father and grandfather were sailors, chartered the sailboat Megan Jaye and sailed, with a crew of four, from Newport, Rhode Island to St George's, Bermuda. The account of the trip first came to light when John Lennon's log of the voyage went up for auction in 2006, where it sold for $8,500.
The voyage was rough. A few days out, they were hit by a storm and progressively the crew became incapacitated by seasickness.  As described in the auction catalog:
During the storm the captain, incapacitated himself, ordered the cook to take the big knurled wheel and hold her steady. John standing on the deck in his yellow waterproof lashed to the rails of the wheelhouse like Ahab strapped to the whale, he was petrified at the shear force driving the ship into the waves with spray stinging his face and streaming down over his glasses. After 15 minutes of this powerful experience, Lennon began to feel his courage rising, it was just like going on stage, at first, you panic and then you're ready to throw up your guts but once you got out there and start doing your stuff you forget your fears and you got high on your performance. Now, as the sea rose before him, Lennon shouted back in defiance, singing shanties, sailor's songs and old ballads he had heard in Liverpool.

They arrived safely in Bermuda on June 11, 1980. Lennon scrawled in the logbook, "Dear Megan there is no place like nowhere." He also left a note for the captain and drew a caricature self-portrait and a sketch of the Megan Jaye sailing into the sunset. "Hank love John Lennon."  Hank was Hank Halsted, the captain for the trip.
The voyage lifted Lennon's depression and broke his writers' block. Not long after arriving in Bermuda, Lennon was inspired to begin writing his last album, Double Fantasy, which he completed in October of 1980. Tragically, just two months later, on December 8th, Lennon was murdered by a deranged fan with a gun in New York City.
So in what respects did this become a sea story?  Various accounts describe Lennon's writer's block as lasting between five and ten years prior to setting sail. Several accounts have Lennon alone on deck at the wheel in the storm, whereas the auction catalog has the cook at the helm.  The Megan Jaye is also said to be 44-feet long and in most accounts, including the auction catalog, she is described as a schooner. Just as all tall ships are not "pirate ships," all sailboats are not schooners.
It turns out that the Megan Jaye is a 43-foot Hinkley centerboard sloop, built in 1977. Renamed Jubilee, she is still sailing. As of last year, Jubilee was owned by Stephen Fuller, a university professor, and his wife Susan. A plaque on board commemorates John Lennon's voyage of 1980.
In addition to becoming a proper sea story, Lennon's 1980 voyage reemerged in 2013, as John Lennon: The Bermuda Tapes, an interactive album app for iPhone, iPad and iPod touch. Net proceeds from the sales of the app go to support WhyHunger and its "Imagine There's No Hunger" campaign to combat global childhood hunger.
John Lennon left us with the gift of his music. He also succinctly captured that certain magic of sailing offshore. There is indeed, "no place like nowhere."