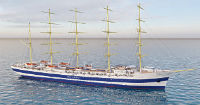 In May, we posted that Star Clippers is building the world's largest square-rigged passenger ship, a near-replica of the five-masted barque France II commissioned in 1911.  Last week, the keel of the as of yet unnamed ship was laid in the Brodosplit Shipyard in Split. The new 8,770-tonne ship will carry 300 passengers and set more than 6,350 square meters of sail. In comparison, the tea clipper Cutty Sark set only half as much sail at around 3,000 square meters. The new ship is expected to be launched in the second half of 2017.
Currently, the largest square-rigged passenger ship in the world is Star Clippers' Royal Clipper, a five-masted full-rigged ship modeled after the Preußen, built in 1902.  The 5,000 tonne Royal Clipper sets 5,200 square meters of sail.  Star Clipper also operates two barquentines, the sister vessels, Star Clipper and Star Flyer. Each sets 3,200 square meters of sail on four masts.
There are two remarkable aspects to the Star Clipper fleet, including the new vessel under construction. First, the ships are primarily sailing vessels. They all have engines and generators to keep the lights on and the drinks cold, yet their primary source of propulsion is the wind. Notwithstanding meeting all current safety rules and featuring bars and swimming pools, these ships are truly modern-day clipper ships.
The second remarkable feature of these ships is while their sail plans reflect the great windjammers of the early 20th century, the rigs themselves are relatively modern. The ships feature deck winches and hydraulics, including hydraulic furling of the square sails in the yards. In this respect, they are both a tribute to the great sailing ships of the past and a glimpse at what could be the future of commercial sail in the future.