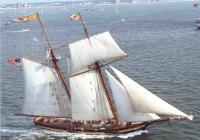 Tremendous news for a great ship. On Monday, Maryland's Governor Hogan announced a $1.5 million private-public partnership with the replica Baltimore clipper, Pride of Baltimore II.  Under a new agreement, the state will commit the funds to Pride of Baltimore Inc., the nonprofit that owns and operates the Pride, over the next three years.
"Pride of Baltimore is a wonderful symbol of the rich maritime heritage of both our state and the city of Baltimore, and the ship generates extremely valuable exposure and goodwill wherever she goes," said Governor Larry Hogan. "We are pleased to have a new partnership with the Pride and to have her help carry our message across the state, nation, and globe – that Maryland is open for business."
"Pride's mission has been to promote historical maritime education, foster economic development and tourism, and represent the people of Maryland in ports throughout the world," said Rick Scott, executive director of Pride of Baltimore Inc. "We are thrilled to have a new partnership with Maryland and we will be working closely with the Maryland Departments of Transportation and Commerce to promote economic development here."
Launched in 1988, Pride of Baltimore II is a topsail schooner that is a replica of the Baltimore clippers built in the city which became well-known as privateers in the War of 1812.
"The Pride is a great iconic figure of Maryland and Baltimore," said Maryland Transportation Secretary Pete K. Rahn. "As the Pride travels around our country, it promotes our state and largest city in a positive light."
Governor Hogan Announces New Partnership with Pride of Baltimore II