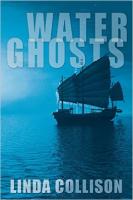 Congratulations to Linda Collison! Her novel Water Ghosts is a Foreword Reviews' 2015 INDIEFAB Book of the Year Award Finalist. 
In our review from last May we wrote: In Linda Collison's new novel, Water Ghosts, seven troubled teenagers embark on a vintage Chinese junk on a Pacific "adventure-therapy" voyage, to either help them work out their problems or just possibly to get them out of their parents' hair. …
Water Ghosts is an absolutely gripping paranormal nautical adventure. While intended for young adults, it can be enjoyed by readers of all ages. Highly recommended.