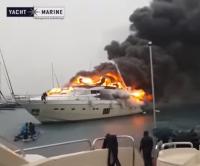 The headlines in the UK Daily Mail and Bloomberg ask the same question — "Why Are All These Superyachts Catching on Fire?" This year has seen a string of fires on "superyachts."  In early January, in the Mediterranean resort town of Marmaris, Turkey, a fire broke out on the 239′ yacht The One before spreading to the 170′ yacht Barbie.  Later in January, the 95′ yacht Queen Anna was destroyed by fire at a marina in Fethiye, Turkey.  In early March, a fire broke out at the Abu Dhabi Marina Yacht Club, destroying eight yachts, three of which were over 90′ long, including the 101′ yacht Asfar. Also in March the 77′ yacht Positive Energy went up in flames at Charlotte Amalie harbor on St Thomas, in the Virgin Islands.
Why are so many of these rich men's toys catching fire? Many think that it is just a coincidence. Yacht insurance companies say that in some years they have no claims from fires whatsoever.
One major cause of many yacht fires is a short in the electrical system. As yachts have more and more electrical equipment added, from air conditioners to navigational aides to entertainment systems, there are more wires to chafe and short out. Failures in machinery and fuel oil systems are also common fire hazards.
The risk is not just the yacht of the super-rich. Any boat at a dock is potentially in danger from a fire on another boat in the marina.  'Almost always, when a boat catches fire and it's in a marina, and there are numerous boats downwind from it, the fire spreads pretty rapidly,' Al Golden, president of International Marine Insurance Services told Bloomberg.
In January, a major fire at the Medina Boat Yard in Cowes, UK burned more than 50 boats, including a number of classic vessels.  In February, a marina fire in Urbanna, VA killed two and destroyed 50 boats, as well.