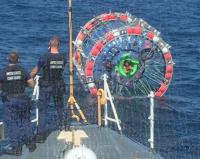 "Bubble Man" Reza Baluchi is at it again, but this time, the Coast Guard told him to turn around not far from shore  before putting himself or others in danger. After warning him not to leave port without a support vessel, the US Coast Guard intercepted Baluchi in his inside his Hydropod, a home-made inflatable plastic bubble with a metal frame, about 7 miles off the coast of Jupiter, Florida.  Baluchi had announced his intention to run inside the bubble craft on a 3,500-mile five-month trek between Florida and islands in the Atlantic and Caribbean.
In October of 2104, we posted about his attempt to run inside his inflatable bubble, which looks a bit like an aquatic hamster cage, on a 1,000-mile voyage from Florida to Bermuda. The Coast Guard rescued him roughly 70 miles off the Florida coast after he became dehydrated and disoriented and triggered an emergency beacon. That rescue cost taxpayers around $140,000, according to the Coast Guard.
After the rescue in 2014, Baluchi announced his intention to try again. This time, the Coast Guard refused permission for Baluchi to leave port in a letter dated April 15th.  When they intercepted Baluchi and his bubble craft, the reported that he had voluntarily agreed to end his voyage."  The penalty for violating the Coast Guard "no-sail" order of up to seven years in jail and a $40,000 fine may have had something to do with it.
"This was an inherently unsafe voyage attempt that put the lives of Mr. Baluchi and other mariners in danger," said Capt. Austin Gould, Coast Guard Sector Miami Commander. The Coast Guard tweeted Sunday that Baluchi's trip ended because he "violated a USCG order" not to go.
Baluchi is attempting to literally run around the globe but has been having problems crossing the wetter sections.  Baluchi describes his attempt as having something to do with world peace and raising money for children's education.  He has attracted a number of corporate sponsors.