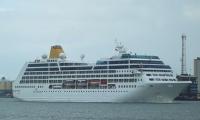 After more than a half-century, American cruise passengers have returned to Cuba. Carnival Corporation's MV Adonia docked in Havanna, Cuba today carrying hundreds of Americans including a few dozen Cuban-born Americans returning to the island for the first time in decades. The arrival of the Cuban-born passengers had been a topic of some contention as a there is a Cuban regulation barring anyone born in Cuba from entering or leaving the Communist-ruled country by sea. Under pressure from the US, Cuba agreed to lift the ban.
In addition to the historic re-establishment of travel, this cruise is unusual in other regards. The ship, MV Adonia, is operated by Carnival's single ship brand, Fathom, and offers a very difference cruise experience than Carnival Corporation's "Fun Ships." Technically, tourism for U.S. citizens in Cuba is still prohibited, but the U.S. government now allows "people-to-people educational travel," which, as the Associated Press put it earlier this spring, "is so broad it can include virtually any activity that isn't lying on a beach drinking mojitos." Carnival has billed the cruise as a "cultural exchange" which will make port calls in Havana, Santiago de Cuba, and Cienfuegos.
The Carnival subsidiary, Fathom, which operates the Adonia, is offering what it calls "Impact Tourism" and what others have termed "voluntourism." In addition to the "cultural exchange" cruises to Cuba, the line is also offering cruises to the Dominican Republic which will allow passengers to volunteer their time working alongside residents on community improvement projects in hopes of improving conditions socially, economically and environmentally. While in the Dominican Republic, the ship will be used primarily as a hotel based at the Amber Cove cruise port.