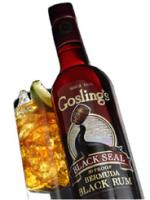 May 24th was not only the 75th anniversary of the tragic sinking of HMS Hood. It was also Bermuda Day.  On this, the morning after Bermuda Day, it seems worthwhile to think of the Dark and Stormy nights spent on the beautiful Atlantic Island. I have a blurry recollection of several Dark and Stormy nights on the docks in St. George after rolling off a ship. I am not referring to the classic opening line, "It was a dark and stormy night" from Edward Bulwer-Lytton's 1830 novel Paul Clifford. No, I am speaking the classic Bermudian sailor's drink, the Dark and Stormy.
A Dark and Stormy is a simple drink — just Goslings Black Seal rum topped with ginger beer. The basic drink came to be when sailors began mixing ginger beer, which it is said they brewed to counter seasickness, with local Bermudian rum. The folklore has it  that the name developed after a sailor commented about the look of the dark rum mixing with the ginger beer. He said that it was "the color of a cloud only a fool or a dead man would sail under." Depending on how many you drink, you can indeed feel like you a fool or a dead man the morning after.
But, be careful of which dark rum you use. Goslings has several trademarks on the name Dark and Stormy and has sent its lawyers after those who misuse it. Last year, Goslings sued the liquor conglomerate Pernod Ricard for posting a "Dark and Stormy" recipe featuring an imposter, Malibu Island Spiced Rum. The company went after rum distributor Zaya when they suggested using their spirits in the drink in 2009.  In 2012, it slapped mixology blog Inu a Kena with a cease and desist letter after writer Josh Miller suggested swapping in cheaper rum for Goslings.  (On the other hand, a quick Google search reveals many Dark and Stormy recipes online where Goslings is recommended but with the suggestion that other dark rums may be substituted.)
If the Goslings is the only rum to use, what about the ginger beer? Never, ever, substitute ginger ale. It lacks the tart punch of a ginger beer. Gosling makes it own ginger beer, although Barritt's has been making ginger beer on the island for something like 138 years and understandably claims to be the best. Ginger beer is often available in larger liquor stores and can also be purchased online.