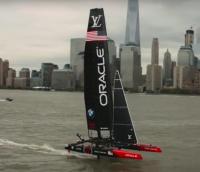 This afternoon, the Americas' Cup will return to New York.  Well, not the cup itself, and the races aren't for the cup either. They are qualifying races for the big races next year. But they will be raced on super-fast AC45 foiling catamarans, that is if the wind on the Hudson River cooperates.  So far, the weather folks are predicting winds of 2-4 knots at race time. The announced rules say that the race will not start in less than five knots of wind. There will be considerable pressure to start the race on time as it scheduled to be broadcast live at 2PM, by NBC in the US and by various other broadcasters around the world.
The race itself is to be held in the lower Hudson River off the Battery Park City Esplanade, between the Pier 25 basin to the north and The Battery to the south. That is a great location for spectators but not such a great spot to sail unless the wind cooperates. Winds from the North or South are fine, but anything from the east or west can produce very fluky breezes as the wind is either funneled between the skyscrapers on either side of the river or is blanketed by the buildings. Right now the wind is shifting to the south-east, while it is expected t be south-south-east by race time, which may be close enough, assuming it picks up to above 5 knots.
Then, there is the current. The 2PM start time is at about maximum flood current in the Hudson near the Battery. Preliminary course diagrams suggest that the there will be a downwind leg up the river and then a broad reach against the ebb current, which could slow things down. If the wind should pick up, the wind against the current can cause a short and nasty chop which the foiling catamarans do not particularly like.
One more thing  – the New York races are not for the Cup itself but are part of the Louis Vuitton America's Cup World Series, which is one of a series of four to six qualifying races sailed in various ports around the world in 2016. The winner of the Louis Vuitton series will race against the current defender, Team Oracle USA, in the America's Cup races in June 2017 to be held in Bermuda.
Here is a video of Oracle Team USA training in the Hudson on when the wind was cooperating. They also brought along "skiing superstar" Lindsey Vonn, presumably, to help drum up interest in the race.